Rosehill Race Track
Rosehill racecourse is situated around 23 kilometres to the west of Sydney's city centre and is home to the Group 1 Golden Slipper Stakes. The track offers quality viewing facilities for punters with modern three-tiered stands combining restaurants and bars, along with corporate boxes and a fully-covered betting ring. Sydney metropolitan racing is administered by the Australian Turf Club.
In the autumn Rosehill hosts Golden Slipper Day which showcases the world's richest race for two-year-olds, the $3.5 million Golden Slipper. In all, the Sydney autumn carnival features a number of quality group races with huge prize money on offer for participants.
Australian Turf Club (ATC)
The Sydney Turf Club (STC) was founded in 1943 and is the youngest of Australia's Principal Race Clubs. It was formed following an Act passed by the New South Wales parliament called the Sydney Turf Club Act. The Act had taken 40 years to draft and gave the club the power to hold 62 race meetings a year at the Rosehill and Canterbury tracks.
In February 2011 the Sydney Turf Club and the Australian Jockey Club (AJC) officially merged to form a new Sydney racing club, the Australian Turf Club (ATC). The ATC and commenced racing on Monday 7th February in New South Wales.
Sydney racing was further boosted by a $174 million funding package by the NSW Government to redevelop Randwick racecourse ($150M) along with improvements to Rosehill ($24M).
Rosehill Racing Carnivals
Rosehill hosts two major autumn and spring carnivals that provide top class racing in New South Wales. These include the Golden Slipper Festival in April and Golden Rose Day in September.
Autumn racing carnival at Rosehill
The Sydney autumn carnival takes place in March & April each year with the Rosehill carnival held over three successive Saturdays in March. Feature races alongside the Golden Slipper include the Group 1 Coolmore Stakes and Group 1 Tancred Stakes.
Below are the main races of the Rosehill autumn racing carnival.
Spring racing carnival at Rosehill
The Rosehill spring carnival is held in September the $1,000,000 Group 1 Golden Rose for three-year-olds the feature race of the spring.
Below are the major races of the Rosehill spring racing carnival.
Rosehill Race Track Details
Rosehill has a circumference of 2,048 metres with sweeping turns and a long home straight of 408 metres. The track gives all horses a chance whether they be on the pace or coming from a fair way back. Rosehill produces plenty of track specialists and barrier positions are important due to most starting gates under 1900m having only a short run to the first turn.
Circumference: 2,048 metres
Straight: 408 metres
Direction: Clockwise
Rosehill Training Tracks
Inside grass: 1,538 x 27m
Slow cinders track: 1,357 x 7m
Fast cinders track: 1,436 x 7m
Sand track: 1,712 x 6m
Rosehill Track Map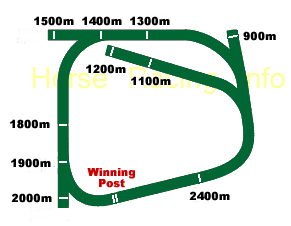 Rosehill Racecourse Contact Details
Rosehill Race Track
James Ruse Drive
Rosehill, NSW 2142
Postal Address:
Locked Bag 3
Randwick NSW 2031
Ph: (02) 9930 4000
Email: info@australianturfclub.com.au
Website: Australian Turf Club
Rosehill Racecourse Directions
How to get to Rosehill racecourse?
Rosehill Gardens can be reached by road, around 23kms to the west of Sydney CBD and is located on James Ruse Drive, a major arterial road linking close by with Victoria Road, the M4 Tollway and Parramatta Road. Trains also run right to the racecourse, or by the Rivercat service from Circular Quay and other city locations
Raceday Complimentary Bus Services
Rosehill: Strathfield Station offers a return shuttle service runs from Everton Road Strathfield Station to Rosehill Gardens Racecourse and starts at 10.00am with trips every 30 minutes (dependent on traffic congestion). The last service departs from P3 bus stop James Ruse Drive at 5.30pm (Winter) or 6:30pm (Summer) returning to Strathfield Station.
Parramatta Station/Wharf offers a return shuttle service from Parramatta Station to Parramatta Wharf to Rosehill with pick ups from Parramatta Station (Argyle Street) at 9.40am, 10.40am, 11.40am, 12.40pm & 1.25pm. A return service is run from Unwin Street at 3.40pm, 4.40pm, 5.40pm & 6.02pm to Parramatta Wharf and Parramatta Station on request.
Clyde Station/ Wharf: offers a shuttle service every 20 minutes from Clyde to Rosehill Station from 9.52 am until 7.00 pm.
Rosehill Racecourse Map Location
Other Sydney Race Tracks
Sydney has three more metropolitan race tracks;
Check out our Sydney autumn racing carnival and Sydney spring racing carnival pages for more information regarding feature races in New South Wales each racing season.