Warwick Farm Race Track
Warwick Farm racecourse is one of four metropolitan race tracks in Sydney and is situated around 30 kilometres south west of the city centre. Known for its casual charm and pleasant country hospitality, Warwick Farm is somewhat of a specialist's course due to the cambering of the track.
The Warwick Farm circuit hosts a couple of major race meetings each year in autumn and spring. The Group 1 Chipping Norton Stakes is the major feature race held at the track and takes place in late February or early March. It is home to the Australian Turf Club (ATC).
Australian Turf Club
In May 1840 the Australian Racing Committee was formed to govern racing, and by January 1842 the Australian Jockey Club was an entity and Homebush was the headquarters of racing in NSW before it moved back to Randwick in 1860. In 1922 the Australian Jockey Club purchased the Warwick Farm course and undertook a number of improvements. The first meeting under the AJC was held on January 27th, 1925 with 25,000 people in attendance.
The Australian Jockey Club (AJC) and the Sydney Turf Club (STC) officially merged in February 2011 to form a new Sydney racing club, the Australian Turf Club (ATC), and commenced racing on Monday 7th February in New South Wales.
In a huge boost to Sydney racing, the NSW Government secured a $174 million funding package to redevelop Randwick racecourse ($150M), along with improvements to Rosehill Gardens ($24M).
Warwick Farm Racing Carnivals
Warwick Farm hosts one day racing carnivals in both autumn and spring with the major autumn event being Chipping Norton Stakes Day. In springtime the Group 1 Winx Stakes is the feature event and takes place in August. Occasionally, when Warwick Farm is unable to hold racing events, the meeting may be switched to Randwick racecourse.
Autumn racing carnival at Warwick Farm
Below are the main races of the Warwick Farm autumn racing carnival.
Spring racing carnival at Warwick Farm
Below are the main spring feature races held at Warwick Farm.
Warwick Farm Race Track Details
Warwick Farm is a tightish track with a circumference of only 1,937 metres. It has a short straight of 326 metres and all starts above 1000m have a long run until the first turn. The track suits horses who like to race on the pace, as the tight turns make it a tough task to come from behind, especially if wide around the final bend.
Circumference: 1,937 metres
Straight: 326 metres
Direction: Clockwise
Warwick Farm Training Tracks
A (grass): 1823m x 20m
B (grass): 1638m x 14m
Sand track (fast): 1760m x 10m
Warwick Farm Track Map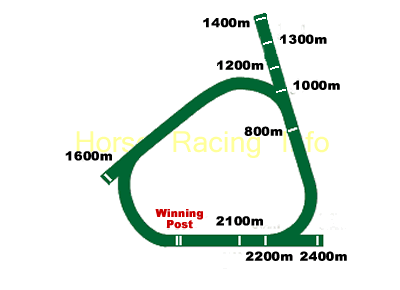 Warwick Farm Race Track Contact Details
Australian Turf Club
Hume Highway
Warwick Farm
Ph: 1300 729 668
Fax: 02 9662 6292
Email: info@australianturfclub.com.au
Website: Australian Turf Club
Warwick Farm Racecourse Directions
How do I get to Warwick Farm?
Warwick Farm is situated on the banks of the Georges River, bordered by Governor Macquarie Drive and the Hume Highway, around 30kms south west of the SYdney CBD.
Car: Take the M5 onto Hume Highway by car and take advantage of complimentary car parking
Train: The T2, T5 and T3 trains all stop at Warwick Farm, and it's an easy 10 minute walk from the station to the front gates.
Bus: Warwick Farm is easily accessible by Bus and shuttle buses are available from Warwick Farm Train Station to the track.
Parking: Members: Via Gate C off the Hume Highway. GA: On the Ledger Lawn, accessed via Governor Maquarie Drive.
Warwick Farm Map Location
Other Sydney Race Tracks
Sydney has three more city race tracks which can be found below;
Please visit our Sydney autumn racing carnival and Sydney spring racing carnival pages for more information about New South Wales feature races each year.