Randwick Race Track
Randwick racecourse is located in the Eastern suburbs around 5 kilometres from the Sydney city centre and is also known as "Royal Randwick", as granted by Queen Elizabeth in 1992. The Randwick track is considered to be the premier metropolitan course in Sydney and hosts major carnivals in both the autumn and spring. It is home to the Australian Turf Club (ATC).
Randwick has multiple race tracks including the Course Proper, which is the largest track in New South Wales, and the Kensington Track (Second largest track in Sydney) which is used for racing, training and trials. Randwick also has more training tracks which are grass, dirt & sand tracks, as well as a Bullring and Equine Pool. It houses more than 20 Trainers and 650+ horses.
The Randwick track is home the Sydney autumn racing carnival, featuring the two-day extravaganza, The Championships.
Australian Turf Club (ATC)
Racing first began at Randwick racecourse in 1833, and in May 1840 the Australian Racing Committee was formed to govern racing. The Australian Jockey Club was formed by January 1842 and the Homebush Course was the headquarters of racing in NSW before it moved back to Randwick in 1860.
In 1922 the Australian Jockey Club purchased the Warwick Farm course and undertook a number of improvements. The first meeting under the AJC was held on January 27th, 1925 with 25,000 people in attendance.
The Australian Jockey Club (AJC) and the Sydney Turf Club (STC) officially merged in February 2011 to form a new Sydney racing club, the Australian Turf Club (ATC). The new entity commenced racing on Monday 7th February in New South Wales.
More recently, the NSW Government secured a $174million funding package to redevelop Randwick racecourse ($150M), along with improvements to Rosehill Gardens ($24Million).
Randwick Racing Carnivals
Randwick hosts two major carnivals in both the autumn and the spring. Both provide top class feature racing, highlighted by 'The Championships' in April.
Racing NSW and the Australian Turf Club have introduced 'The Championships' to the Sydney Autumn Racing Carnival with over $18 million in prize money spread over two feature race days at Randwick.
The Championships are made up of Ten 'Championship' races set across two consecutive Saturdays in April, with a total of eight Group 1 races on offer.
Autumn racing carnival at Randwick
Held in April each year, the $3 million Group 1 Doncaster Handicap is the highlight of the first day of The Championships, while the $4 million Group 1 Queen Elizabeth Stakes takes centre stage on the second day. The Queen Elizabeth Stakes is the richest race of the Sydney autumn.
Below are the main races of the Randwick autumn racing carnival.
Spring racing carnival at Randwick
The Randwick spring carnival is held in late September and early October. The carnival features four Group 1 race days: George Main Stakes Day, Golden Rose Day, Epsom Handicap Day and Spring Champion Stakes Day.
Below are the major races of the Randwick spring racing carnival.
Randwick Race Track Details
The Course Proper has a circumference of 2,224 metres with sweeping bends, and the straight is 410 metres long with a slight up hill slope known as the rise.
Randwick Course Proper
Circumference: 2,224 metres
Straight: 410 metres
Direction: Clockwise
Kensington Track
Circumference: 2,100 metres
Straight: 401 metres
Direction: Clockwise
Randwick Training Tracks
B (grass): 1501m x 20m
Steeple track (grass): 1800m x 19m
Dirt track: 1942m x 13m
Sand track: 1440m x 6.5m
Inside track (metal & ashes): 1081m x 11m
Randwick Track Map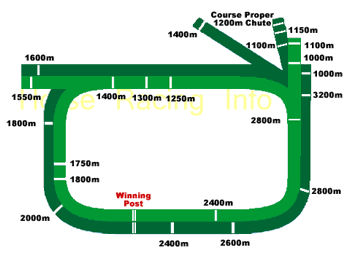 Randwick Racecourse Contact Details
Australian Turf Club
Alison Road,
Randwick NSW 2031
Postal Address:
Locked Bag 3
Randwick NSW 2031
Ph: 1300 729 668
Fax: 02 9662 6292
Email: info@australianturfclub.com.au
Website: Australian Turf Club
Randwick Racecourse Directions
How to get to Randwick Racecourse?
Car: If travelling by Car, Randwick Racecourse is located on Alison Road in Randwick, around 6.5kms from the Sydney CBD. It will take you about 15 minutes to drive via the Eastern Distributor, or 30 if you travel via Ocean Avenue. Limited free parking is available via High Street.
Train: The closest train staion, Green Station, is over 2kms away via the Airport and East Hills line.
Bus: Travel directly to the course and back from Chalmers Street, Central Station, in Sydney
Randwick Racecourse Map Location
Other Sydney Race Tracks
Sydney has three more metropolitan race tracks which can be found below;
Visit our Sydney spring racing carnival page to learn about feature races held in New South Wales each spring.