Unibet Review
Online bookmaker Unibet is a top choice for horse racing punters and our Unibet Review looks at their racing bet types, promotions, mobile app and more.
Unibet Australia offers an excellent racing product for online betting, with competitive odds, a huge range of markets, and inviting member promotions.

The Unibet motto of - By Players, For Players - ensures continuous improvement in all aspects of their award-winning product. They strive for an outstanding client experience for their members, with quality customer service assured.
Unibet is one of Europe's biggest gambling operators in the bookmaking world. Their online presence in Australia came about after buying out Betchoice from Australian bookmakers Colin Tidy and Mark Morrissey in 2012.
Why join Unibet for Horse Racing?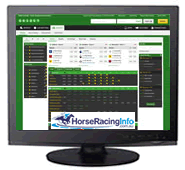 Unibet offers a wide variety of thoroughbred racing betting products designed to make your dollar go further.
Punters can enjoy Tote 10%, which pays VIC TAB dividend plus 10% on top, while SPG, or Starting Price Guarantee, pays the starting price if it is higher than the 3 Australian TABs.
Unibet has a wide range of horse racing betting markets for Australian and International racing.
Members also receive several exciting racing products including Expert Edge and live streaming of thoroughbred racing.
If you bet on horse racing, then we recommend a Unibet account, as this long estabkished bookie provides the complete betting experience.
We recommend Unibet for Horse Racing

We 'highly recommend' a Unibet account for online betting.
Unibet has stood the test of time as a quality online bookmaker. They have an excellent racing product and their special offers and member promotions make them a great bookie to join.
Three reasons you must have a Unibet account
| | |
| --- | --- |
| | Best Tote for horse racing ensures best of three TABs |
| | Enjoy top racing rewards with The Vault promotions hub |
| | Top mobile betting app and live streaming of events |
Unibet has over 14 million customers worldwide and they also have a quality sports betting product for punters, making them a top choice for online betting.
The Northern Territory Government licensed and regulates Unibet Australia for betting in Australia.
Unibet Racing Bet Types

Unibet provides a great range of horse racing betting markets for punters to enjoy daily. They also have many racing bet types to add value for money for members.
Below are some Unibet racing products available for thoroughbred punters.
Unibet Racing Products
SPG - Starting Price Guarantee
Unibet's SPG guarantees to pay the Starting Price if it is higher than any of the three Australian TABs tote dividend.
Best Tote
Guarantees to pay a win dividend equal to the highest of the three Australian TABs tote dividend.
Middle Tote
Pays a win dividend equal to the second highest of the three Australian TABs tote dividend.
Top Fluc
Pays the top fluctuation price as quoted by the on-course bookmakers.
Other Unibet Betting Types
Unibet also offer popular bet types such as Fixed Odds, Starting Price, Place betting, along with Exotic betting including Quinellas, Exactas, Trifectas, First Fours, Quadrellas and more.
Owners
Racehorse owners receive great odds on their winning horses.
Protest Payout
Unibet still pay out if your horse is first past the post but then lose the race by protest.
For more information about the most common racing bet types in Australian racing please visit our Horse Racing Bet Types page.
Unibet App Review
The Unibet App is an easy-to-use mobile product for racing punters. Download the app for both IOS and Android devices, including iPhone, iPad and Tablets.
Open a new Unibet account here, then download the app for your preferred mobile device.
Place bets on Unibet mobile in a quick and easy manner. Browse horse racing and sports markets, check promotions and features, read their popular betting blog, anytime, anywhere.
Unibet App Features
Quick menu navigation is the mainstay of the Unibet App, providing easy access to Sports, Racing, Promotions, Features and Blog sections from the home page.
The Racing menu has quick buttons for Next, Today, Tomorrow, and Next Day racing, along with Futures and Specials, with current promotions prominent above those buttons.
Results and Sports tabs are also available from the racing page, making for speedy navigation throughout the app.

Unibet App Racing Markets
Click the 'Racing' button to reveal the following betting menus.
Next - Upcoming thoroughbred, harness, greyhound races.
Today - Today's Australian and International race meetings.
Tomorrow - Tomorrow's Australian and International races.
Next Day - Early markets for upcoming race meetings.
Futures - Early odds for upcoming feature races.
Specials - Current sports and racing specials on offer.
The Unibet App puts betting on the run in the palm of your hand.
Popular Unibet Mobile Features
Enjoy a huge range of Australian and international horse racing betting markets. The mobile app is fast, secure and includes the following features:
Top odds on horse racing and sporting events.
Live streaming of over 30,000 sporting events a year.
In-play betting with live betting odds.
Comprehensive live coverage, live activity feeds and scores.
Unibet Blog, promotions, special offers and more.
Download the app for iOS or Android to enjoy across all mobile devices.
Unibet Promotions

Unibet members have access to a massive range of member promotions. Find them on the promotions page of the website, alongside the Sports and Racing tabs.
The Vault
Unibet offers exciting racing rewards for Australian racing and they are all available in - The Vault - Unibet's exciting promotions hub. Different rewards are up for grabs to eligible existing members every day, so make sure to check out The Vault once you're logged in.
Popular promotions include Price Push, Reboost, Uniboost & Uplift.
Price Push - Boosted Odds on a certain certain runner.
Reboost - Unlimited boosts until you back a winner.
Uniboost - Boosted Odds on a runner of your choice
Uplift - Uplifted Odds on every runner in eligible races
Of course, terms and conditions apply to all The Vault promotions whcih are all outlined on the promotions page.
Most Popular Unibet Promotions
If you're a racehorse or greyhound owner, you can take advantage of top odds when backing your own horse or dog. For sports fans, Unibet also streams live sports, including the popular NBA competition.
Some more popular Unibet promotions are;
Competitive prices for racehorse and greyhound owners.
Live Streaming of sports events, plus Unibet TV.
State-of-the-art Unibet Mobile app for punting on the run.
Unibet Expert Edge to give your punting that extra edge.
Uniboost, Unibet Uplift, Daily Mega Multis, Match Multis
Visit the Unibet website to learn more about their value for money promotions.
How to open a Unibet account
Here's how to join Unibet and become a member.
1. Visit Unibet to open a new account.
2. Login to Unibet with your new username and password.
3. Browse markets for free or deposit funds to place a bet.
All Unibet promotions are subject to terms and conditions.
Unibet Social Media
Unibet Australia has a strong social media presence on Twitter, Facebook and YouTube.
Here's an example of a Unibet YouTube video.
Customer Service
Contact Unibet Customer Service via phone, email or Live Chat.
They have a comprehensive - Help Centre - section on their website, with popular Frequently Asked Questions prominent.
Search via - View all FAQs - to find relevant information, such as Terms of Use, Betting Types, Account, Bonuses, Products, Getting Started and more.
Chat with a customer service representative via Live Chat to resolve any immediate issues with your online betting account.
Contact Details
Contact a service representative on any of the following options.
Customer Service - 1300 246 673
International - +61 (8) 8943 3488
Email - customerservice@unibet.com.au
Live Chat - Website and Mobile Device
Phone Betting
Phone Betting is available on the following numbers:
Telephone Betting - 13 78 68 (13 PUNT)
International - +61 (8) 8943 3444
Email and local phone support are available seven days a week between 9:00 AM and 2.30 AM AEST.
Minimum Bets and Deposit Options
Minimum bet amount for online betting is $0.10, while phone betting is $10.00.
Deposit and Withdrawal options include:
Deposit Funds - Credit/Debit Card, PayPal, and POLi, BPAY and Bank Transfer.
Withdraw funds - Bank Transfer, Credit Card, PayPal.
Unibet Australia promotes responsible gambling for betting online.
About Unibet Online Bookmaker

Created in 1997, Unibet is one of Europe's biggest gambling operators, offering sports betting, online casino, online poker, online bingo, live betting markets and more
Unibet headquarters is in Malta in Southern Europe and owned by a Norwegian publicly listed company named Unibet Group plc.
They branched out into the Australian online betting market in 2012 following the Betchoice takeover from Sydney-based bookmakers, Colin Tidy and Michael Morrissey.
Betchoice was established in 2001 and Michael Morrissey continued as Executive Director at Unibet
Unibet Awards
If awards mean anything to you, Unibet has several prestigious awards in their trophy cabinet including;
Best Online Sportsbook Operator (2014 The International Gaming Awards)
eGaming Review Sports Betting Operator of the Year (2006, 2008 and 2009)
Live Operator of the Year (2009)
The Unibet Australia website operates under Unibet/Betchoice Corporation Pty Ltd (ABN 71 121 382 607) with their registered office is in Darwin at Fannie Bay Racecourse.
The Northern Territory Government governs Unibet's gambling activities in Australia.

Unibet offer popular deposit options including Mastercard, Visa, BPay, Poli & Bank transfer.
Deposit and withdraw funds through Unibet's secure online payment system with either your credit card or debit card.
Reasons to bet on Horse Racing with Unibet
Tote 10% & SPG bet types pay better dividends than the TAB
Host of member promotions designed to add value for money
Unibet Mobile app lets you place bets any time of the day
Owners Bonus for racehorses and greyhounds you own
Live Streaming, Unibet TV, Betting Blog, Betting Guides and more
State-of-the-art website and betting app for members
Focus on outstanding customer service and continuous improvement
Unibet Help Centre
The Unibet Help Centre provides a wealth of information to assist with any account, products or getting started issues.
Visit the 'My Account' section for all login problems, account details, verifying your account, deposits & withdrawals, bonuses & promotions issues, and responsible gaming features.
My Account
Login Problems
What to do if you can't log in to your Unibet account, such as if you've forgotten your password.
Change Your Details
How to change your password, update your personal details and make sure you're getting their promotional emails.
Verify Your Account
Find out which documents are required for upload to verify your account.
Deposit and Withdraw Money
How to make deposits and withdrawals, check your account balance, get your winnings and set a deposit limit.
Bonuses & Promotions
Info about bonuses including deposit bonus, reward bonus, insured bet and refer a friend bonus.
Responsible Gaming
Unibet provides features to help you play responsibly.
Unibet Australia Products Help
Get product help for Sports and Racing, plus Sports Rules and Racing Rules.
Sports
Pre-match betting, Live betting, Unibet TV via your PC or mobile.
Racing
Thoroughbred, Greyhound and Harness betting. Totes + 10%, Dead Heat & Protest Payouts, Owners Bonus
Sports Rules
A complete list of all Unibet sports rules, across all sports.
Racing Rules
All the relevant racing rules for Australian and International racing.
Getting Started at Unibet Australia
The 'Getting Started' section includes Setting up Your Account, On Your Mobile, Safety and Security, Troubleshooting, Connection Loss and Technical Requirements.
Getting Started
Learn how to set up your account, open an account, choose a currency, and apply restrictions including age, nationality and duplicate accounts.
On Your Unibet Mobile
Bet on thousands ofracing and sports markets, while you stream all the action live on your mobile device.
Safety and Security
Find out how your data is kept safe and how to choose a secure password.
Protecting Yourself
Account safety details to help protect yourself online.
Troubleshooting
Find out how to resolve problems when using the Unibet website.
Connection Loss
Learn what happens if you lose your connection while playing, and how to prevent it happening.
Technical Requirements
Check the minimum system and computer requirements for using their software.
Join Unibet here and get help whenever you need it.
Help is also available on Unibet login, promotions, terms and conditions, odds boost and more.