Ascot Racecourse
Perth's Ascot racecourse is located around 8 kilometres east of the city centre and is headquarters for thorougbred racing in the state of Western Australia. The head office of the Western Australian Turf Club (WATC) is positioned directly opposite the track. Racing at Ascot takes place in the summer and autumn months from around November to April.
Perth Racing (formerly the Western Australian Turf Club) has been hosting thoroughbred racing in Western Australia for over 150 years. It is responsible for the two riverside racecourses of Ascot and Belmont, both located close to the capitol city of Perth.
Visit our Belmont racecourse page for information on Perth's second city race track, which is home to winter racing in Perth.
Ascot Racing Carnivals
Ascot hosts major carnivals in November and December (Summer) each year, and also in April (Autumn). The three-week summer carnival features the $1,000,000 Group 1 Railway Stakes, Perth's major race, in November.
In the autumn, the Group 2
Karrakatta Plate
for three-year-olds is the feature event.
The Perth Cup is a time honoured event in Western Australia and is held each year in Perth on New Year's Day.
Ascot Autumn Carnival Feature Races
Below are the main races of the Ascot autumn racing carnival in Perth, Western Australia.
Ascot Summer Carnival Feature Races
Below are the main races of the Ascot summer racing carnival.
Our Perth Racing Carnival page has all feature races held during the current racing season in Perth.
Ascot Race Track Details
Ascot has a well drained track with a circumference of 2,200 metres and an inclining straight of 300m which can test a horse's mettle in the run to the line. A horse can win from in front or behind at Ascot.
Circumference: 2,022 metres
Straight: 294 metres
Direction: Anti-Clockwise
Ascot Track Map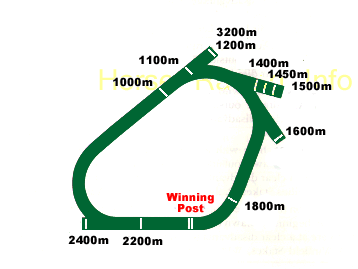 Ascot Race Track & Contact Details
Ascot
Grandstand Road
Ascot, WA 6104
Ph: 08 9277 0888 Race day
Postal Address:
Lee-Steere House
70 Grandstand Road
Ascot, WA 6104
Ph: 08 9277 0777
Fax: 08 9277 0740
Email: perthracing@perthracing.org.auan>
Website: Perth Racing
---
Ascot Racecourse Directions
How to get to Ascot Race Track.
From the city centre take Graham Farmer Fwy/State Route 8 and National Highway 94 to Kalgoorlie St in Ascot, then continue on Kalgoorlie St to Ascot racecourse.
Car
Public car parking is available off Matheson Road for those arriving via the Great Eastern Highway. If you're crossing Garratt Road Bridge then turn left at the Waterway Crescent roundabout into the Leger Car park.
Train
Trains stop at Burswood Station with a Shuttle Bus available as per scheduled times.
Taxi
Taxi ranks are located outside the Matheson Road Gate.