Belmont Racecourse
Belmont racecourse is Perth racing's winter race track and is also known as 'Belmont Park'. It is considered to be one of the best wet weather tracks in Australia due to its top quality drainage system. This means racing during Perth's winter months always goes ahead, whether rain, hail or shine.
Perth Racing
Perth Racing (formerly the Western Australian Turf Club) has been hosting thoroughbred racing in Western Australia for over 150 years. The club is responsible for the two riverside racecourses of Belmont and Ascot, both located within easy reach of Perth city centre.
With fully enclosed facilities for racing enthusiasts, a Belmont Saturday meeting is a great place to spend a day at the races.
Metropolitan racing in Perth is also held at Ascot Racecourse, where racing takes place during the summer and autumn months.
Belmont Racing Carnival
Belmont racecourse hosts four Group 3 races during the racing season from May through to July. These are the Roma Cup, Belmont Sprint, Hyperion Stakes and Strickland Stakes. All Group 1 and Group 2 races are held at Ascot racecourse.
A number of listed stakes races are also held throughout June to August each year at Belmont. The most notable of these are the Belmont Newmarket and the Goodwood Sprint.
Belmont Winter Racing Carnival
Below are the main races of the Belmont winter racing carnival in May, June and July.
Our Perth Racing Carnival page has all feature races held during the current racing season in Perth.
Belmont Race Track Details
Belmont has a circumference of 1,699 metres and a straight length of 333 metres. The track is oval shaped offering good runs to the first turn from most starting gates, giving all horses a chance in the run.
Circumference:1,699 metres
Straight: 333 metres
Direction: Anti-Clockwise
Belmont Track Map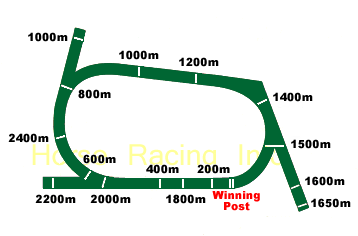 Belmont Race Track Contact Details
Belmont Park
Victoria Park Drive
(Off Graham Farmer Freeway)
Burswood, WA 6100
Ph: (08) 9470 8222 Race day
Postal Address:
Lee-Steere House
70 Grandstand Road
Ascot, WA 6104
Ph: 08 9277 0777
Fax: 08 9277 0740
Email: perthracing@perthracing.org.au
Website: Perth Racing
---
Belmont Racecourse Directions
How to get to Belmont Racecourse
From the Perth CBD, head towards Graham Farmer Fwy/State Route 8 to Saintly Entrance in Burswood. Take the Victoria Park Dr/Burswood exit to get to Belmont Racecourse from Graham Farmer Fwy/State Route 8.
Car
Car Parking is available either side of the Grandstand. Simply follow the signage and take directions from parking attendants.
Taxis and Charter Services can enter the racecourse via Graham Farmer Freeway, with a Taxi Rank located at the Main Entrance of Belmont Park.
Bus and Train
A shuttle bus return trip is available every raceday from Burswood Train Station to the main entrance of Belmont Park Racecourse between 10am to 1pm and 3pm to 6pm.