Eagle Farm Race Track
Eagle Farm race track is a metropolitan racecourse located in the suburb of Ascot in Brisbane, Queensland, and is situated about 7 kilometres from the Brisbane city centre.
Home to the Group 1 Stradbroke Handicap in June, Eagle Farm has hosted racing since 1865 and is under the jurisdiction of the Brisbane Racing Club. Eagle Farm is one of two city tracks used for thoroughbred racing in Brisbane, the other being Doomben, which is located across the road.
Brisbane Racing Club
The Brisbane Racing Club formed following an amalgamation of the Queensland Turf Club (QTC), who organised Eagle Farm racing, and the Brisbane Turf Club (BTC), which raced at Doomben. The official commencing date of the Brisbane Racing Club was the July 1st 2009.
Previously the Eagle Farm Racecourse was operated by the Queensland Turf Club Ltd. The Club was formed in 1863 with the first race meeting held in 1865. The Queensland Turf Club was managed by a Board of Directors.
Eagle Farm Racing Carnival
Eagle Farm hosts its major carnival during the winter months of May and June each year. Feature races include the Stradbroke Handicap, Queensland Derby and Queensland Oaks, all Group 1 events.
Eagle Farm Feature Races
Below are the major Group 1 races of the Eagle Farm racing carnival in May and June
Queensland Oaks - Group 1 - 3yo Fillies Set Weights over 2400m
The TJ Smith - Group 1 - 2yo Open Set Weights over 1600m
Stradbroke Handicap - Group 1 - Open Quality Handicap over 1400m
Queensland Derby - Group 1 - 3yo Open Set Weights over 2400m
Winter Stakes - Group 1 - Open Fillies and Mares Weight-for-age over 1400m
Please visit our Brisbane Winter Racing Carnival page for all Brisbane feature races on the racing calendar each year.
Eagle Farm Track Details
Eagle Farm is a right handed (clockwise) track with a course proper circumference of 2,027 metres. The length of the straight is 434 metres with the width at the winning post 28.5 metres. It is a turf track that has a reputation for being an all seasons course that can cope with adverse weather conditions.
Circumference: 2,027 metres
Straight: 434 metres
Direction: Clockwise
Tracks & training facilities
Course Proper
"A" Grass
"American" dirt (woodfibre & sand composite)
Sand
"B" Grass
Cinders (for slow pacework)
Swimming Pool
Eagle Farm Track Map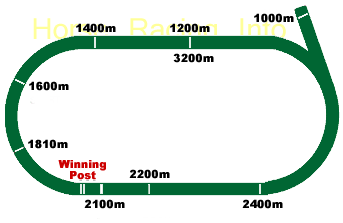 Eagle Farm Contact Details
Eagle Farm Racecourse Info
230 Lancaster Road, Ascot QLD 4007
Ph: 07 3268 2171
Fax: 07 3868 2410
Email: admin@brc.com.au
Doomben Racecourse Postal Addres
Brisbane Turf Club, P.O. Box 817
Hamilton Central 4007
Ph: 07 3268 2171
Website: Brisbane Turf Club
Eagle Farm Racecourse is located on Lancaster Road, Ascot and is around 8 or a 12 minute drive from the Brisbane city centre and 6kms or around a 6 minute trip from the Brisbane Airport.
Public Transport
Travelling by train from Brisbane to Eagle Farm requires you to get on the Doomben line train from Roma Street, Central or Brunswick Street stations and it delivers you to Ascot station which is located right next to Eagle Farm, with direct access to the racecourse. To get to Eagle Farm by bus then visit the Translink website for more information.
If you wish to travel by river then The City Cat travels down to Bretts Wharf and leaves you with an 800m walk to the main entrance of Eagle Farm racecourse.
By Car
Free parking is available if you plan on driving to Eagle Farm and the car park entrance is via Lancaster Road or Nudgee Road. Disabled parking spaces can be found in the main Nudgee Road car park, close to the main entrance. The Brisbane Turf Club website has location and direction details to Eagle Farm racecourse.
By Taxi
A taxi rank is stuated right outside the main entrance to the track.
Eagle Farm Racecourse Directions
How to get to Eagle Farm Racecourse?
The Brisbane Racing Club also hosts city racing at Doomben race track, which is located just across the road from Eagle Farm. For more information, including course details and racing carnival information, visit our Doomben racecourse page.