Newcastle Gold Cup Preview
The Newcastle Gold Cup is a Group 3 open handicap race held annually on a Friday afternoon in September at Newcastle racecourse in Newcastle, New South Wales, during the Sydney spring racing carnival in New South Wales. The race is run over a distance of 2300 metres and worth $175,000 in prizemoney. The 2018 Newcastle Gold Cup was won by Carzoff from Auvray with Just Shine third.
Newcastle is located about 200km north of Sydney on the Hunter Coast and is home to the Newcastle Jockey Club's very popular two-day Newcastle Gold Cup Carnival, which now takes place on a Friday & Saturday afternoon, with four group races on the first day.
Three group races are held alongside the Newcastle Gold Cup on the Friday, including the Gr3 Cameron Handicap for sprinters, the Gr3 Spring Stakes for three-year olds, and the Gr3 Tibbie Stakes for fillies & mares.
The Newcastle Gold Cup carnival has been held midweek on Wednesday & Thursday in recent years but was moved to Friday & Saturday from the 2015/2016 racing season to provide greater opportunity for locals to come along and enjoy the day.
Newcastle Gold Cup info
| | |
| --- | --- |
| Track: | Newcastle racecourse, Newcastle |
| Distance: | 2300 metres |
| Race Type: | Open Handicap |
| Status: | Group 3 |
| Prizemoney: | $175,000 |
| 2018 Winner: | Carzoff |
The Newcastle Gold Cup is an above average country cup raced under handicap conditions and typically attracts handy local stayers or capable city horses that might travel up from Sydney for the Newcastle carnival.
The race offers good prizemoney for a provincial race and the Newcastle Gold Cup is the feature staying event of the year for the Newcastle Jockey Club. Winners and placegetters in recent times have gone on to perform soundly in spring feature races such as the Gr3 Colin Stephen Quality Hcp and Gr1 The Metropolitan later in the carnival.
In recent times Glencadam Gold (2012) has won The Metropolitan and both Lodge The Deeds (2nd in 2009) and Bianca (2008) have finished runner-up, while County Tyrone (3rd in 2004) managed to win The Metropolitan after placing in this race. Exinite (2nd in 2006) won the Colin Stephen Quality Hcp at his next start.
Gazza Guru (3rd in 2011-2012) ran third in the Gr3 Craven Plate at Randwick at his next start and The Verminator (5th in 2011) managed to win the The Metropolitan on the same day.
Talented stayer Green Moon (2011) went on to finish runner-up in the Gr1 Caulfield Cup at Caulfield during the Melbourne spring racing carnival after taking out the Newcastle Gold Cup. He then returned the following autumn to win the Gr2 Blamey Stakes at Flemington before winning the 'race that stops a nation', the Gr1 Melbourne Cup, the following spring at the same track.
A race like the Listed Wyong Cup is a good lead up to this event and both Carzoff (2018) and Beyond Thankful (2015) are recent Wyong Cup and Newcastle Gold Cup double winners.
Carzoff (2018) captured the Listed Wyong Cup over 2100m at Wyong before scoring in this event for the Chris Waller stable.
Recent Newcastle Gold Cup winners include Broadside (2017) and Sacred Master (2016).
Newcastle Track Map
Newcastle race track is a flat track which has a circumference of 2000m and horses race in a clockwise direction. The track surface is turf and the straight length is 415m.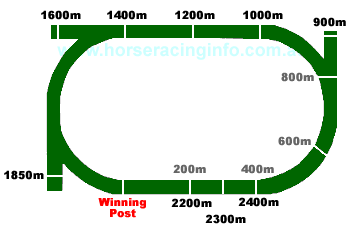 2018 Newcastle Gold Cup result
1. $3.60 Carzoff 54.0 Kerrin McEvoy
2. $4.40 Auvray 59.5 Tye Angland
3. $10.00 Just Shine 54.0 Jason Collett
then followed
4. $6.50 Goathland 54.0 Tommy Berry
5. $9.50 Harper's Choice 54.0 Brenton Avdulla
6. $26.00 First Crush 54.0 Mark Du Plessis
7. $41.00 Vassal 54.0 Jeff Penza
8. $31.00 Destiny's Kiss 58.0 Jay Ford
9. $31.00 Mongolian Wolf 54.0 Andrew Gibbons
10. $10.00 Dark Eyes 54.0 Tim Clark
11. $31.00 Grand Dreamer 54.0 Corey Brown
12. $41.00 Segenhoe 54.0 Christian Reith
13. $26.00 Cismontane 54.0 Glyn Schofield
Margins: 0.4 len, 1.13 len
Time: 2:24.44
Bet now on the Newcastle Gold Cup
Join any of our recommended bookmakers for the best Newcastle Gold Cup odds.
| | | |
| --- | --- | --- |
| | Enjoy top odds on a huge range of innovative betting markets! | Bet now |
| | 'Best of the Best' guarantees best of three totes & Top Fluc | Bet now |
| | Back or Lay at much better odds than the TAB at 'Betfair' | Bet now |
| | Take advantage of 'Best Tote' bet type on horse racing! | Bet now |
Terms & conditions apply when joining an online bookmaker. Always gamble responsibly.
Newcastle Gold Cup winners & placegetters
| | | | | |
| --- | --- | --- | --- | --- |
| 2018 | Carzoff | Auvray | Just Shine | 2:24.4 |
| 2017 | Broadside | Auvray | Admiral Jello | 2:24.2 |
| 2016 | Sacred Master | Dee I Cee | Junoob | 2:14.5 |
| 2015 | Beyond Thankful | Orbec | Rio Perdido | 2:23.5 |
| 2014 | Disclaimer | Brigantin | Wish Come True | 2:23.1 |
| 2013 | Winning Glory | Lucripetous | Peal Of Bells | 2:24.9 |
| 2012 | Glencadam Gold | Peal Of Bells | Gazza Guru | 2:23.3 |
| 2011 | Green Moon | Home On A Wing | Gazza Guru | 2:22.4 |
| 2010 | Stratofortress | Snow Alert | Scottish Border | 2:22.2 |
| 2009 | Streetfighter | Lodge The Deeds | Enzedex Eagle | 2:26.9 |
| 2008 | Bianca | Keepin The Dream | County Tyrone | 2.23.4 |
| 2007 | Race not held | Equine Flu | | |
| 2006 | Bikkie Tin Blues | Exinite | Respect | 2:21.3 |
| 2005 | Carael Boy = 1 | High Cee = 1 | Cross Bar | 2:25.8 |
| 2004 | Another Warrior | New York Style | County Tyrone | 2:20.5 |
| 2003 | Comforts | My Tally | Daneborogh | 2:21.5 |
| 2002 | Time Off | Red Trinket | Danyon | 2:23.4 |
| 2001 | Agincourt Express | Yuppie | Consolidator | 2:24.8 |
| 2000 | Silent Impact | Prophet's Kiss | She's Neat | 2:28.4 |
| 1999 | Maltese Beauty | Zexzabeel | Edward Brae | 2:30.0 |
| 1998 | Joss Sticks | Ronzino | In Joyment | 2:30.8 |
| 1997 | Emerald Cut | Aphasia | Our Mr Kinman | 2:31.9 |
| 1996 | My Kiwi Gold | Super Monarch | Few Are Chosen | 2:27.5 |
| 1995 | Seto Bridge | Gossips | Electronic | 2:27.4 |
| 1994 | Oompala | Striking Gold | Pl. C'quest/Mjr Dec. | 2:30.3 |
| 1993 | Azzaam | Paris Fire | Moods | 2:38.1 |
| 1992 | Beachside | Donegal Mist | Sir Winston | 2:32.3 |
| 1991 | Maharajah | Ecliptic | Rural Prince | 2:26.0 |
| 1990 | Our Magic Man | Donegal Mist | Macquarie Prince | 2:21.7 |
| 1989 | Hunter | Macquarie Prince | Just Irish | 2:25.6 |
| 1988 | Eye Of The Sky | Prince Toronaga | Grosvenor Square | 2:26.7 |
| 1987 | The Brotherhood | Kensei | Lord Hybrow | 2:23.5 |
| 1986 | Indian Raj | Coobers Gold | Born To Be Queen | 2:26.9 |
| 1985 | Mr Mako | On Stage | Reckless Tradition | 2:23.6 |
| 1984 | Forward Charge | Admiral Lincoln | Lost Valley | 2:23.9 |
| 1983 | Chiamare | Hayai | Noble Heights | 2:26.2 |
| 1982 | Gurner's Lane | Port Carling | Elmar | 2:26.4 |
| 1981 | No Peer | Sean's Pride | Under Orders | 2:24.5 |
| 1980 | Star Dynasty | Reckon I'm Ready | Prodigal | 2:23.4 |