Morphettville Parks Racecourse
The Morphettville Parks racecourse is located about 5 kilometres from the Adelaide city centre in the suburb of Morphettville, South Australia. The 'Parks' course is situated at the existing Morphettville track which now provides another city turf track in Adelaide to complement Allan Scott Park Morphettville.
A new 1400m chute was incorporated, allowing for the running of classic group and listed races that were previously only held at the now defunct Victoria Park and Cheltenham Park tracks, which is where the name 'Parks' emerged. It is home to the South Australian Jockey Club (SAJC).
The 'Parks' was completed for racing on June 15, 2009, with the first meeting held on Wednesday June 17th, 2009, and enables the SAJC to hold up to 70 race meetings a year.
South Australia Jockey Club (SAJC)
The South Australian Jockey Club administers metropolitan racing in Adelaide and the SAJC dates back to 1856.
Under Sir John Morphett's leadership, the SAJC held Morphettville's first meeting in 1875 and the first race was won by "Red Gauntlet", owned by Hon. Thomas Elder, who had been a catylyst in the creation of Morphettville racecourse. The SAJC takes care of racing at both Adelaide city tracks, Morphettville and Morphetville Parks.
Morphettville Parks Racing Carnivals
The Morphettville Parks racecourse is home to the Group 3 Sires Produce Stakes in May each year.
Sires Produce Stakes (1400m) - Group 3 - 2yo Set Weights
Visit our Adelaide Racing Carnival page to learn more about feature racing in Adelaide.
Morphettville Parks Track Details
The track circumference of "The Parks" is 2100m with a track width of 25 metres. The home straight is 320 metres in length.
Flat races are run over distances from 1000m to 2400m, while hurdles and steeple races will be run over 3000m and 3350m respectively.
Circumference: 2,100 metres
Straight: 320 metres
Direction: Anti-Clockwise
Morphettville Parks Track Map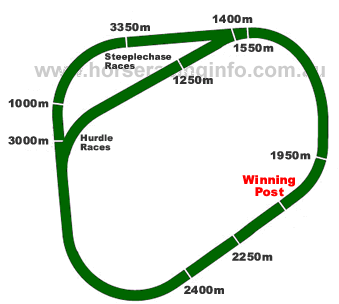 Morphettville Parks Contact Details
Morphettville Parks Racecourse
78 Morphett Road
Morphettville SA 5043
Ph: 08 8295 0111
Email: enquiries@sajc.com.au
Twitter: @SAJockeyClub
Postal Address
SA Jockey Club
PO Box 2646
Adelaide SA 5001
Ph: 08 8295 0111
Website: South Australian Jockey Club
Morphettville Parks Directions
How to get to Morphettville Parks racecourse?
The track is located just off Anzac Highway, Morphett Rd, Morphettville with entry via Morphett Rd entrance or Tramway entrance.
Taxis will pick up and drop off patrons from the member's car park throughout the day, while trams operate from North Tce, and Victoria Square (Adelaide), through to Moseley Square (Glenelg). City buses also provide services to stops adjacent to the track on Anzac Highway and Morphett Road. Current schedules can be found at www.adelaidemetro.com.au.
Morphettville Parks Racecourse Map Location
If you choose to drive yourself then car parking is available at Morphett Road adjacent to the Members' entrance on the opposite side of the road to the racecourse, and also in the centre of the course via Morphett Road.