Flemington Racecourse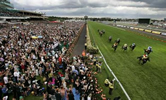 Flemington racecourse is Australia's most recognised race track and is located in Melbourne, Victoria. It is one of four metropolitan racecourses, alongside Caulfield, Moonee Valley and Sandown. Flemington is famous for hosting our greatest race, the Melbourne Cup, on the first Tuesday in November.
Flemington is home to both autumn and spring racing carnivals. The Australian Cup meeting is the highlight of the autumn and the Melbourne Cup Carnival is the star attraction in the spring. The country's best gallopers head to Melbourne each spring to provide some of the most exciting thoroughbred racing action seen anywhere in the world.
The Melbourne spring racing carnival has a life of it's own and captures the whole nations's interest. It's the biggest event on the racing calendar each year. Flemington often hosts crowds in excess of 100,000 people during the spring carnival.
The Victoria Racing Club (VRC) administer racing at Flemington.
Victoria Racing Club (VRC)
Established in 1864, when two earlier rival clubs, the Victoria Turf Club (1852) and Victoria Jockey Club (1857), disbanded, to create the Victoria Racing Club, or VRC as it is commonly known.
Racing began at Flemington racecourse in 1840 and such is it's great history it was placed on the National Heritage List in 2006. The track itself also provides a top class training centre for horses with many of Australia's best trainers operating stables at the course or very close by. Flemington features a number of major races in Australia alongside the Melbourne Cup, including the Victoria Derby, Victoria Oaks and Emirates Stakes.
Flemington Racing Carnivals
The spectacular four-day Melbourne Cup carnival in the spring is Flemington's biggest racing event each year. The Melbourne Cup is the jewel in the crown of a week long racing carnival in November. Super Saturday of Racing in March is also an excellent race day in the autumn.
Autumn racing carnival at Flemington
Held around February & March each year, the biggest race day of the autumn is the Super Saturday of Racing featuring two Group 1 races, the Australian Cup and Newmarket Handicap. The whole meeting features group and listed stakes races in a fantastic day of racing.
Below are the main races of the Flemington autumn racing carnival.
Spring racing carnival at Flemington
Held in November, the major Flemington spring carnival is a four day event running from Saturday to Saturday. Victoria Derby Day kicks off the carnival hosting four Group 1 races, with the rest of the meeting all group races. It's a fantastic race day and widely regarded as the best race day in Australia.
On the first Tuesday in November our greatest race, the Melbourne Cup is held in front of more then 100,000 people in a carnival like atmosphere, while the VRC Oaks takes place on the Thursday, followed by the Emirates Stakes on the final Saturday.
Below are the four major races of the Flemington spring racing carnival.
Flemington Track Details
Flemington is a spacious track with one of the longest straights in Australia at 450 metres which gives all horses an equal chance with luck in running. Flemington also has a 1200 metre straight track for racing which is commonly refered to as "The Straight Six" course.
The track provides plenty of room for competing horses and races can be won by horses who like to lead, race on the pace, or come home late from behind. All kinds of different racing types can win at Flemington if they are up to the task and ridden by a capable jockey.
Circumference: 2,312 metres
Straight: 450 metres
Direction: Anti-Clockwise
Flemington Track Map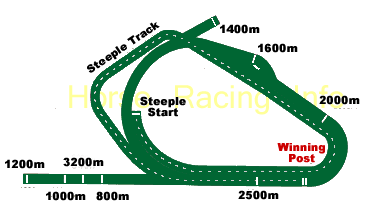 Flemington Race Track Contact Details
Victoria Racing Club
448 Epsom Road
Flemington, Vic 3031
Australia
Ph: 03 8378 0720
Fax: 03 9376 5846
Website: Victoria Racing Club Website
Flemington Racecourse Directions
How to get to Flemington racecourse?
Trains run regularly to and from Flemington with Special race trains departing Flinders Street from Platforms 8, 9 & 10, stopping at Southern Cross station at Platform 13 & 14 and North Melbourne at Platform 5 & 6, then onwards to Flemington. Contact Metlink on 131 638 for further information.
If you fancy catching a Tram then hop aboard the No. 57 tram from the corner of Elizabeth and Flinders St which takes you to Flemington Drive which is off Epsom Road.
Alternatively, catch the Route 472 from Williamstown, Footscray or Moonee Ponds and hop off at Fisher Parade, near the Riverbank entrance or jump on Route 404 from Footscray or Moonee Ponds and disembark on Smithfield Road.
Flemington Racecourse Map Location
Other Melbourne Race Tracks
Melbourne has three other city racing tracks which can be found below;
Visit our Melbourne autumn racing carnival and Melbourne spring racing carnival pages for more information on the two major racing carnivals in Victoria.