Caulfield Racecourse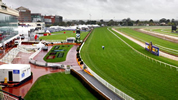 Caulfield racecourse can be found in Melbourne's south eastern suburbs about 8 kilometres from the Melbourne city centre and is also referred to as "The Heath". Caulfield hosts the major Caulfield Cup carnival in October and can hold a crowd of 50,000+ people quite comfortably.
Racing first began at Caulfield racecourse in 1876 and was administered by the Victoria Amateur Turf Club(VATC). The first meeting actually took place at Dowling Forest racecourse in Ballarat before Caulfield became the permanent home in Melbourne a short time later. It is home to the Melbourne Racing Club.
Melbourne Racing Club (MRC)
The Melbourne Racing Club (MRC) operates at both Caulfield and Sandown racecourses and holds 60 plus race meetings each year across the two locations. The MRC accounts for almost half of all city racing in Melbourne.
After entering into 5 year plan in 2001 to establish 20 feature race days at Caulfield, the club constructed a second turf track at Sandown, named Hillside, and the existing track renamed to Lakeside. A major upgrade of facilities and training tracks at Caulfield followed. As part of the plan, the club also changed from the VATC to become the Melbourne Racing Club.
On August 1st 2010, the Melbourne Racing Club merged with the Mornington Racing Club.
Caulfield Racing Carnivals
Caulfield hosts major carnivals in both the autumn and spring, including Blue Diamond Stakes day in March and Caulfield Cup day in October.
Autumn racing carnival at Caulfield
The Caulfield autumn carnival takes place in February each year and features the Group 1 Blue Diamond Stakes for two-year-olds. It's the Melbourne Racing Club's major race during this time and always attracts a quality field of young gallopers. The Group 1 Futurity Stakes and Group 1 Oakleigh Plate provide a top class support act on Blue DIamond Stakes Day, making it one of the biggest race days of the autumn
Another big race held at Caulfield in the autumn is the Group 1 CF Orr Stakes, which takes place two weeks prior to the Blue Diamond Stakes.
Major Group 1 races of the Caulfield autumn racing carnival.
Spring racing carnival at Caulfield
Caulfield hosts its major carnival of the year in October, where the three-day Caulfield Cup Carnival kicks Melbourne's spring racing carnival into gear.
The exciting Caulfield Guineas Day meeting kicks off proceedings in early October with a fantastic day of thoroughbred racing action. Feature races include the Group 1 Caulfield Guineas for colts & geldings and the Group 1 Thousand Guineas for fillies.
Blue Sapphire Stakes Day features midweek on the Wednesday, before the running of the Melbourne Racing Club's major spring race the following Saturday, the Group 1 Caulfield Cup.
The MRC also hosts feature races earlier in the spring, with the Group 1 Memsie Stakes in August, along with the Group 1 Rupert Clarke Stakes & Group 1 Underwood Stakes in September
Caulfield in spring.
Caulfield Track Details
The Caulfield track has a circumference of 2,080 metres with long sweeping turns and the back of the course has a slight rise towards the 1400m starting chute. The straight length is 367 metres and there are three starting chutes at the 1200m, 1400, and 2000m starts.
Caulfield is a track suited to horses that can lead or race up on the pace. Any horse who can lead and kick in the straight will be a favourite of punters at Caulfield. The track is big enough for horses to come from behind and win, and while horses have the ability to score from a long way back, it often takes a more than handy horse to do so.
Circumference: 2,080 metres
Straight: 367 metres
Direction: Anti-Clockwise
Caulfield Track Map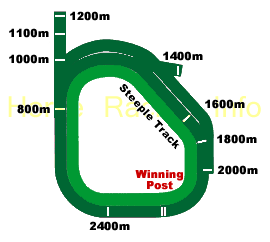 Caulfield Race Track Contact Details
Melbourne Racing Club
PO Box 231
Caulfield East VIC 3145
Ph: 03 9257 7100
Fax: 03 9257 7101
Website: Melbourne Racing Club Website
Caulfield Racecourse Directions
How to get to Caulfield racecourse
Car: Caulfield Racecourse can be located by Car about 20 minutes south-east of Melbourne's city centre by following Dandenong Road from the city until you see the signs to the Caulfield racecourse turn-off. (Melways reference 68 E1) Free parking is available in the centre of the track, with entry gained via the roundabout at Kambrook and Glen Eira Roads. Carpark opens at 9am.
Train: Catch a Train from the Frankston, Dandenong, Cranbourne and Pakenham lines which depart regularly from Flinders Street to Caulfield Station, located directly opposite the course and is around a 15 minute trip.
Tram: Catch a Route 3 Tram from the city on weekdays that travels along Swanston Street and St. Kilda Road and gets off at Stop 56. On weekends, catch the Route 3a Tram from the city that goes along Swanston Street, St Kilda Road and St Kilda Beach and also gets off at Stop 56. Both trips take just under 30 minutes and from East Malvern you can jump on the Route 3/3a services that travel along Waverley Road.
Bus: Catch the SmartBus Route 900 Bus to Caulfield from Stud Park Shopping Shopping Centre, Wellington Road, Monash University (Clayton) and Chadstone Shopping Centre and it's around a 50 minute trip to Caulfield from from Stud Park. Route 624 buses from Kew, Auburn Station, Tooronga Station and Holmesglen Station also travel to Caulfield.
Caulfield Racecourse Map Location
Other Melbourne Race Tracks
Melbourne has three more city racing tracks which can be found below;
Visit our Melbourne autumn racing carnival and Melbourne spring racing carnival pages for more information on the two major racing carnivals in Victoria each year.