Hawkesbury Gold Cup
The Hawkesbury Gold Cup is a Group 3 open handicap race held on a Saturday each year in May at Hawkesbury racecourse in New South Wales. The race is run over a distance of 1600 metres and worth $200,000 in prize money. The 2019 Hawkesbury Gold Cup was won by Archedemus from Tom Melbourne with Sixties Groove third.
More recently the Hawkesbury Gold Cup was held on VRC Oaks day during the four-day Melbourne Cup Carnival, but was moved to May for the 2013/2014 racing season to become the feature event of a standalone race day alongside the Group 3 Hawkesbury Guineas and Group 3 Hawkesbury Crown.
The Hawkesbury track is located about 65km west of the Sydney city centre, between Richmond and Windsor, and is directly opposite the Richmond Air Force Base.
Hawkesbury Gold Cup info
| | |
| --- | --- |
| Track: | Hawkesbury racecourse, Hawkesbury |
| Distance: | 1600 metres |
| Race Type: | Open Handicap |
| Status: | Group 3 |
| Prize Money: | $200,000 |
| 2019 Winner: | Archedemus |
The Hawkesbury Gold Cup is an above average country cup race that normally attracts handy local types, or better class horses that make the trip up from Sydney, and generally the race will be taken out by a fit, in-form galloper or an emerging type on the way up.
The move from spring to the autumn may attract some of the lesser lights from the recently finished Sydney autumn racing carnival looking for an easier black type race to add to their reseumes.
Archedemus (2019) finished unplaced in the Provincial Championship Final over 1400m at Randwick in Sydney before leading all the way to win this event for popular Kembla Grange trader Gwenda Markwell.
Recent Hawkesbury Gold Cup winners include Kingsguard (2018) and Fabrizio (2017).

Hawkesbury Track Map
Hawkesbury race track has a circumference of 2070m and there is a slight rise from the home turn to the winning post. The track surface is turf and the straight length is 380m and horses race in a clockwise direction.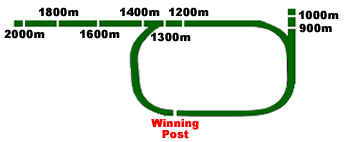 2019 Hawkesbury Gold Cup result
1. $3.20 Archedemus 53.0 Corey Brown
2. $6.50 Tom Melbourne 59.0 Glyn Schofield
3. $21.00 Sixties Groove 59.0 Jason Collett
then followed
4. $12.00 New Universe 53.0 Ms Kathy O'Hara
5. $26.00 Tumultuous 57.0 Joshua Parr
6. $5.50 Kaonic 57.0 James McDonald
7. $26.00 Black On Gold 55.0 Tim Clark
8. $81.00 Kellstorm 54.0 Christian Reith
9. $11.00 Aloisia 57.0 Sam Clipperton
10. $26.00 Alward 55.0 Adam Hyeronimus
11. $7.50 Zourkhan 53.0 Jay Ford
12. $26.00 Snitzson 55.0 Jean Van Overmeire (a)
Margins: 0.57 len, 3.21 len
Time: 1:34.47
Bet now on the Hawkesbury Gold Cup
Join any of our recommended bookmakers for the best Hawkesbury Gold Cup odds.
| | | |
| --- | --- | --- |
| | Enjoy top odds on a huge range of innovative betting markets! | Bet now |
| | Back or Lay at much better odds than the TAB at 'Betfair' | Bet now |
| | Take advantage of 'Best Tote' bet type on horse racing! | Bet now |
Terms & conditions apply when joining an online bookmaker. Always gamble responsibly.
Hawkesbury Gold Cup winners & placegetters
| | | | | |
| --- | --- | --- | --- | --- |
| 2019 | Archedemus | Tom Melbourne | Sixties Groove | 1:34.4 |
| 2018 | Kingsguard | Ecuador | Mccreery | 1:37.0 |
| 2017 | Fabrizio | Moher | Testashadow | 1:34.6 |
| 2016 | Amovatio | Mighty Lucky | Casino Dancer | 1:34.8 |
| 2015 | Sons Of John | Tales Of Grimm | Rugged Cross | 1:38.4 |
| 2014 | Leebaz | Wistful | Keep Cool | 1:35.3 |
| 2013 | Coup Ay Tee | Julienas | Darci Be Good | 1:35.6 |
| 2012 | Darci Be Good | Isopach | Praecido | 1.35.3 |
| 2011 | Somepin Anypin | Willy Jimmy | Renewed Vitality | 2:39.3 |
| 2010 | Thankgodyou'rehere | Glintz | Kimillsy | 1:35.3 |
| 2009 | Keepin The Dream | Spinney | Bernicia | 1:35.3 |
| 2008 | Nuclear Sky | Alverta | Gergis | 1.34.7 |
| 2007 | Race not held | Equine Flu | | |
| 2006 | Beauty Watch | Friday Creek | Prince Arthur | 1:34.4 |
| 2005 | Wild Queen | Verb | Cateclipse | 1:38.0 |
| 2004 | Court's In Session | Magsaya | Salgado | 1:33.2 |
| 2003 | Stoway | Vital Agreement | Takas | 1:37.5 |
| 2002 | This Manshood | Huge Demand | Evander | 1:33.1 |
| 2001 | Carael Boy | Play Station | Ra Eclipse | 1:34.9 |
| 2000 | Huge Demand | Grey And Gold | Lanolin | 1:33.8 |
| 1999 | Huge Demand | Chinhoyi | So Precise | 1:34.3 |
| 1998 | Referral | Banner Headline | Tricove | 1:33.7 |
| 1997 | Quick Flick | Wakool Ash | Stony Bay | 1:33.8 |
| 1996 | Magic Road | Headstrong | Classy Fella | 1:33.1 |
| 1995 | Magic Road | Rouslan | Social Rule | 1:35.3 |
| 1994 | Jack Attack | Cohort | Another Victor | 1:34.7 |
| 1993 | Thrifty Reserve | Square The Circle | Play Or Pay | 1:32.9 |
| 1992 | Mr Impose | Thrifty Reserve | Belas Knap | 1:35.1 |
| 1991 | Shining Wind | Pre Record | Thrifty Reserve | 1:34.1 |
| 1990 | Rancho Classic | Livistona Lane | Post Elect | 1:35.3 |
| 1989 | Swain | Prince Toronaga | Impoverish | 1:37.5 |
| 1988 | Regal Native | Toscanini | It's Lunchtime | 2:01.1 |
| 1987 | My Parade | Palmyra Bay | Commercial Balance | 1:59.3 |
| 1986 | Gold Zama | Jogger | Reuter's News | 2:01.6 |
| 1985 | Peaceful Joe | Likealunch | Benbulban | 2:00.9 |
| 1984 | Kutzbah | Rueter's News | Jogger | 2:05.1 |
| 1983 | Almond Valley | Noble Ambition | Viva Bali | 1:59.2 |
| 1982 | Knight's Affair | Artist Man | Ambushed | 2:02.2 |
| 1981 | King's Ideal | Round The Horn | River D'Or | 2:02.6 |
| 1980 | Peninsula | March To Glory | Howie | 2:28.7 |