Sha Tin Racecourse

The Sha Tin racecourse opened in 1978 and is located in Sha Tin in the New Territories in Hong Kong. It's home to a number of highly rated Group 1 races throughout the year, including the Hong Kong Cup worth more than HK$20,000,000.
Sha Tin racecourse is Hong Kong's second race track behind Happy Valley and is the larger of the two Hong Kong racing tracks. Both are both run by the Hong Kong Jockey Club (HKJC).
Sha Tin is home to Group 1 racing in Hong Kong, and also hosts major international group races attracting top gallopers from around the world. The Sha Tin racing season is held from September through June.
The track itself has two grandstands and can comfortably fit up to 85,000 passionate racing fans who wager a large amount of money on a regular basis.
Hong Kong Jockey Club (HKJC)
The Hong Kong Jockey Club (HKJC) was formed in 1884 and holds a government granted monopoly for taking bets on Hong Kong horse racing events. The Hong Kong Jockey Club administers horse racing at two racetracks, Sha Tin and Happy Valley, and they hold nearly 700 horse races per year with large crowds on average of around 46,000 people per race meeting.
The HKJC hosts the hugely successful International Race day which takes place at Sha Tin racecourse annually each December. It's one of the biggest race days in Asia each year.
Feature races held on the day include the Hong Kong Sprint (1200m), Hong Kong Mile (1600m), Hong Kong Cup (2000m) and Hong Kong Vase (2400m).
Thoroughbred horse racing in Hong Kong is vital to the economy and contributes big taxes, with local charities the major beneficiary of funds. Gambling on the horses is a large part of people's lives in this part of the world. They're very passionate thoroughbred followers who bet hundreds of millions of dollars on horse racing in Hong Kong.
About Sha Tin Racecourse
Sha Tin racecourse hosts all Group 1 racing in Hong Kong and they hold 14 feature group one events each racing season. The richest and most prestigious raceday in Hong Kong each year is the Hong Kong International Race day in December.
Widely considered to be amongst the best international events in the racing world, the Hong Kong International Races are the main meeting point for thoroughbreds in the northern and southern hemisphere.
Major races held at Sha Tin
Sha Tin Track Details
Sha Tin is a top quality race track that gives all racehorses every chance in the run. Races are held over distances ranging from 1000 metres to a maximum distance of 2400 metres, with fields no larger than fourteen horses. Sha Tin's racecourse amenities are among the best in the world.
The Sha Tin race track has both turf and dirt surfaces and with a circumference of 1900m (home straight 430m) is much more of a galloping track than Happy Valley. The dirt track to the inside measures 1560m in circumference and the most commonly used distances are 1200m, 1650m and 1800m.
A separate 1000m chute is used for turf sprints down the home straight, while other turf distances are 1200m, 1400m, 1600m and 1800m, 2000m and 2400m. The turf track at Sha Tin is usually less prone to track bias although this can often change in very wet weather when the inside rail becomes cut up.
Sha Tin Turf Track
Circumference: 1,900 metres
Straight: 430 metres
Direction: Clockwise
Sha Tin Dirt Track
Circumference: 1,560 metres
Straight: 380 metres
Direction: Clockwise
Sha Tin Track Map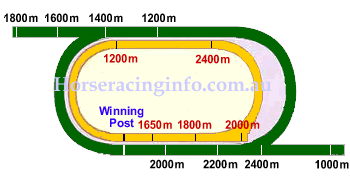 Sha Tin Racecourse Contact Details
Sha Tin Racecourse
New Territories
Hong Kong
Email: customer.care@hkjc.com
Website: hong Kong Jockey Club Website
Sha Tin Racecourse: Located at Sha Tin, in the New Territories, and can be reached easily by Kowloon Canton Railway, stopping at Racecourse Station. Phone 2695-6223
Entry To The Racecourse: Admission fee is HK$10 at the entrance of Sha Tin of Happy Valley racecourse to watch the races on either track in the Public Stand. Tourists staying in Hong Kong for less than 21 days can buy a member guest badge to visit the Member Stand. The member guest badges are available for sale at designated off-course betting branches. You can call local Hotline on 1817 for branches location and relevant details or send an e-mail to hotline@hkjc.org.hk for more information.
Horse Racing Tours: Moreover, there are 2 'Come Horseracing Tours' organized by the Hong Kong Tourism Board, exclusively for overseas visitors staying in Hong Kong for less than 21 days. These include an admission badge and buffet-style meal inside the Visitors' Box.
Sha Tin Racecourse Map Location
Racing season is September to June. For further details, please call (852) 2366 3995 or (852) 2508 1234, fax to (852) 2312 2031 or send an e-mail to chrdept@splendidtours.com.