Happy Valley Racecourse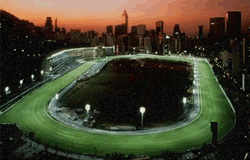 Happy Valley racecourse is located on the north of Hong Kong Island along with the Hong Kong Jockey Club. Racing takes place predominantly on Wednesday nights and some weekends and public holidays.
The course itself is situated amidst major housing and retail buildings and is a sight to behold on race night when Hong Kong punters flock to the track creating an electric type atmosphere. Hong Kong is home to a second race track, Sha Tin racecourse, which is also administered by the Hong Kong Jockey Club.
A typical Wednesday night's betting at Happy Valley turns over a massive amount of money and gambling on the horses is definitely the number one favourite pastime in Hong Kong. Happy Valley's tight tracks and high stands are favoured by jockeys, horses and punters alike, and it seems as though everyone in Hong Kong is at the races on a Wednesday night which creates for a frantic atmosphere and fever pitch excitement.
Sha Tin, the second course in Hong Kong, holds meetings on weekends, but it does not come close to the sheer excitement and adrenaline charged atmosphere that is Happy Valley racecourse.
Hong Kong Jockey Club (HKJC)
The Hong Kong Jockey Club was formed in 1884 and they hold a government granted monopoly for taking bets on Hong Kong horse racing events. The Hong Kong Jockey Club administers horse racing at two racetracks, Sha Tin and Happy Valley, and they hold nearly 700 horse races per year with large crowds on average of around 46,000 people per race card.
Thoroughbred horse racing in Hong Kong is vital to the economy and contributes huge taxes with local charities being a major beneficiary of funds.
The HKJC hosts one of the major racedays in Asia when International Race day takes place at Sha Tin racecourse annually each December. Feature races held on the day include the Hong Kong Sprint (1200m), Hong Kong Mile (1600m), Hong Kong Cup (2000m) and the Hong Kong Vase (2400m).
Gambling on the horses is a large part of people's lives in this part of the world and they are very passionate thoroughbred followers who bet hundreds of millions of dollars on horse racing in Hong Kong.
About Happy Valley Racecourse
Happy Valley was the site of the original racecourse in Hong Kong and what you see there now is quite different from the original swampy fields and the bamboo stands of the last century.
Happy Valley has been home to Hong Kong horse racing racing since 1846 and the city has grown up around the race track. Tourists to Happy Valley can also visit the Hong Kong Racing Museum which provides a wonderful history dating back to last century.
The course has seen different stages of development over the years with the most recent being in 1995 to upgrade the track to an international grade one racecourse. Happy Valley is now able to seat over 47,000 screaming fans and plays host to international races such as the International Jockeys' Championship.
Get the best Hong Kong Vase odds at Unibet!

Happy Valley Track Details
The tight, right-handed city race track has a circumference of 1450m metres with five distances being utilised - 1000m, 1200m, 1650m, 1800m and 2200m. The track uses four courses A B C and C+3 ith the A course being the widest and the rail moving outwards.
General speaking, those horses nearer the rail have an edge in comparison to those running two or three wide. Comparatively, the A course is the fairest and least prone to any bias. If anything, the C+3 tends to be predisposed to producing more on-pace, on-the-rails results.
Happy Valley Turf Track
Circumference: 1,450 metres
Straight: 310 metres
Direction: Clockwise
Happy Valley Track Map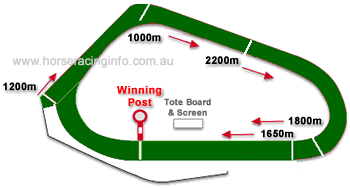 Happy Valley Race Track Details
Happy Valley Race Track
2 Sports Rd, Happy Valley, Hong Kong Island
Ph: (852) 2895 1523 or (852) 2966 8111
Races usually held September to July on Wednesday and weekends (first race 7:30pm)
Email: customer.care@hkjc.com
Website: Hong Kong Jockey Club Website
Happy Valley Racecourse Directions
How to get to Happy Valley Racecourse?
The Happy Valley race track is located north of Hong Kong Island.
1. Take MTR to Causeway Bay station (Exit A), walk for 20 mins along Wong Nai Chung Road.
2. Take tram to Happy Valley Tram Terminus.
3. Take bus no.1 outside Admiralty MTR station (Exit C1), or take bus no.1M outside Admiralty MTR station (Exit D). Operated on the occasion of Race Days hold at Happy Valley only 2 hours before first race until 10 mins before first race.
4. Take bus #19 at Yee Wo Street in Causeway Bay.
Entry To The Racecourse: Admission fee is HK$10 at the entrance of Sha Tin of Happy Valley racecourse to watch the races on either track in the Public Stand. Tourists staying in Hong Kong for less than 21 days can buy a member guest badge to visit the Member Stand.
The member guest badges are available for sale at designated off-course betting branches. You can call local Hotline on 1817 for branches location and relevant details or send an e-mail to hotline@hkjc.org.hk for more information.
Happy Valley Map Location
Horse Racing Tours: There's two 'Come Horseracing Tours' organized by the Hong Kong Tourism Board, exclusively for overseas visitors staying in Hong Kong for less than 21 days. These include an admission badge and buffet-style meal inside the Visitors' Box.