Bendigo Cup Preview
The Bendigo Cup is a Group 3 open handicap race that takes place midweek on a Wednesday at Bendigo racecourse in Bendigo, Victoria during the spring racing carnival in October. The race is run over a distance of 2400 metres and worth $300,000 in prizemoney. The 2017 Bendigo Cup was won by Qewy from Kiwia with Foundry third.
The Bendigo Jockey Club hosts racing at the iconic western Victorian race track and is located in the rural city of Bendigo which is about 150kms north-west of Melbourne. Formerly a listed race, the Bendigo Cup was upgraded to Group 3 status for the 2015/2016 racing season.
Bendigo Cup info
| | |
| --- | --- |
| Track: | Bendigo racecourse, Bendigo |
| Distance: | 2400 metres |
| Race Type: | Open Handicap |
| Status: | Group 3 |
| Prizemoney: | $300,000 |
| 2017 Winner: | Qewy |
The Bendigo Cup brings a carnival like atmosphere to the Western District area and the city of Bendigo comes alive on Cup day to celebrate the running of their major cup for the year with local holidays and many festivities.
With the date change from mid November to late October in 2009 and the recent increase in distance to 2400m, the Bendigo Cup now provides a good lead-up race to the Melbourne Cup the following Tuesday at Flemington. The upgrade to Group 3 status also makes it a more attractive proposition for better class horses, along with those stayers being aimed at our most famous race on the first Tuesday in November.
Red Alto (2018) ran fifth in the Hamilton Cup over 2200m at Hamilton before pulling out all stops to win this event at huge odds for trainer Brent Stanley.
Recent Bendigo Cup winners include Qewy (2017) and Francis Of Assisi (2016).
Spring Carnival Guide
Up until 2008 the race was held in November, which was a couple of weeks after the Melbourne carnival ends. With with the race being moved to the Wednesday prior to the Melbourne Cup in 2009 it may start to provide some kind of guide to our greatest race in future years.
Traditionally the Bendigo Cup has attracted handy country type stayers who will most likely continue on the country cup circuit and may go on to the other main western districts race, the Ballarat Cup in mid November. With the change of date, some horses may go on and tackle a race like the Sandown Classic in November.
Sertorious (2013) had a consistent spring following his Bendigo Cup victory, running second in the Gr2 Queen Elizabeth Stakes at Flemington before winning the Gr2 Sandown Classic at Sandown the following week.
Darren Weir stayer Puissance De Lune (2012) won the Gr2 Queen Elizabeth Stakes over 2500m at Flemington after winning this race and My Bentley (2nd in 2010) took out the listed Ballarat Cup over 2200m at Ballarat the following month.
Bendigo Cup Day Information
Gates Open: 10am
Admission: Adult $30
Concession: $25
Child: Free
Pre-purchase your tickets for a discounted General Admission price.
Bendigo Jockey Club
Heinz Street (PO Box 108)
White Hills
Bendigo Vic 3551
Tel: 03 5448 4209
Bendigo Track Map
Bendigo race track has a circumference of 1884m and provides horses with ample time to get settled with most starts having good runs before having to negotiate the first turn. The track itself is quite roomy and with a long straight length of 400m it gives horses every chance in the run to the line.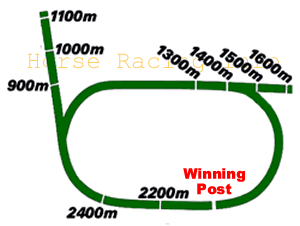 2018 Bendigo Cup result
1. $71.00 Red Alto 54.5 Michael Walker
2. $5.50 Dal Harraild 57.5 Kerrin McEvoy
3. $12.00 Sir Charles Road 57.0 Dwayne Dunn
then followed
4. $3.80 Lord Fandango 57.0 Damian Lane
5. $2.70 Furrion 55.5 Jye McNeil
6. $6.00 Sir Isaac Newton 56.5 Mark Zahra
7. $51.00 Barry The Baptist 54.0 Dean Holland
8. $26.00 Berisha 54.5 Luke Currie
9. $101.00 Ormito 54.0 Ben Allen
10. $61.00 Rezealient 54.5 Luke Nolen
11. $101.00 Master Of Arts 55.5 Blake Spriggs
12. $151.00 Dandy Gent 54.0 Dean Yendall
13. $101.00 Happy Moment 54.0 Regan Bayliss

Margins: 0.2 len, 0.2 len
Time: 2:28.51
Bet now on the Bendigo Cup
Join any of our recommended bookmakers for the best Bendigo Cup odds.
| | | |
| --- | --- | --- |
| | Enjoy top odds on a huge range of innovative betting markets! | Bet now |
| | 'Best of the Best' guarantees best of three totes & Top Fluc | Bet now |
| | Back or Lay at much better odds than the TAB at 'Betfair' | Bet now |
| | Take advantage of 'Best Tote' bet type on horse racing! | Bet now |
Terms & conditions apply when joining an online bookmaker. Always gamble responsibly.
Bendigo Cup winners & placegetters
| | | | | |
| --- | --- | --- | --- | --- |
| 2017 | Qewy | Kiwia | Foundry | 2:27.5 |
| 2016 | Francis Of Assisi | Second Bullet | Our Century | 2:28.3 |
| 2015 | The Offer | Divan | Kirramosa | 2:28.5 |
| 2014 | Bring Something | Massiyn | Order Of The Sun | 2:29.4 |
| 2013 | Sertorius | Massiyn | Kesampour | 2:30.7 |
| 2012 | Puissance De Lune | Practiced | Fiumicino | 2:27.9 |
| 2011 | Tanby | At First Sight | Western Symbol | 2:28.7 |
| 2010 | Dream Pedlar | My Bentley | Zauberin | 2:18.2 |
| 2009 | Zupacool | Crossthestart | Daka's Gem | 2:15.0 |
| 2008 | Banana Man | Imvula | Butwaittheresmore | 2.28:8 |
| 2007 | Captious | Hoodlum | On a Jeune | 2:31.9 |
| 2006 | Gallic | Brindabella | Home Sweet | 2.31.9 |
| 2005 | True Courser | Belzain | Garidar | 2:30.3 |
| 2004 | Gallic | Jakodae | Diamond Jake | 2:32.5 |
| 2003 | Western Waters | Chairmans Choice | Mr Prudent | 2:28.3 |
| 2002 | Forlorna (Ire.) | Fearless Sophie | Time Off | 2:31.3 |
| 2001 | Saboteur | Betta Watch It | Never Dull | 2:28.3 |
| 2000 | Yammer | Western Outlaw | Jamestown | 2:34.4 |
| 1999 | Majestic Avenue | Jamestown | Bohemiath | 2:28.3 |
| 1998 | Meeting Abandoned | | | |
| 1997 | Napier Street | My Satorial | Northern Embossing | 2:31.2 |
| 1996 | Cockade | Sovereign Lira | The Red Man | 2:33.4 |
| 1995 | Double Take | Broann | Toil | 2:28.3 |
| 1994 | Ice Doctor | Unsolved | Seto Flowerian | 2:27.2 |
| 1993 | Frontier Boy | Red Zaam | Anfitrion | 2:13.8 |
| 1992 | Rasputins Revenge | Awesome Mover | Offshore Trust | 2:17.5 |
| 1991 | Stick Around | Tisolde | Home Show | 2:14.6 |
| 1990 | Jolly Good Thought | Aquidity | Cool Credit | 2:16.3 |
| 1989 | Chigarow | French Icing | Our Magic Man | 2:16.7 |
| 1988 | Bettota | Bronze Knight | Jolly Good Thought | 2:14.9 |