Opening a Betting Account at Betfair
It's completely free to open a betting account at Betfair and it's also an easy process. Once you have registered with Betfair and deposited some funds, you can start betting right away. You can withdraw funds at any time once your identity has been verified.
Visit Betfair here and start enjoying the best odds for your bet right away!
Smart punters bet at the world's biggest betting exchange because getting the best odds is crucial to long term profit. Check out our Betfair Review to see all the benefits of a Betfair account.
Register a new betting account at Betfair
To register a new account simply join Betfair here, or alternatively, click any of the Betfair Banners on this page to be taken to the Betfair joining page (as shown below).
Click 'Join Now' to register a new Betfair account.
Fill in your new account details at Betfair
Fill in your personal details such as name, date of birth, contact number, valid email address, home address etc under the 'Your Details' section to the left, before creating a 'Username' and 'Password' for your new Betfair account under the 'Your Betfair Account' to the right.
You also need to answer a security question along the way for added security or to enable you to retrieve a lost password.
Click 'Agree and Open Account' and follow the steps outlined to complete your account creation. You will be informed that your Betfair application has been successful and your account is now active. Click 'Continue' at the bottom of the page and login to your new account with your 'User name' and 'Password' to take a look around.
Deposit funds into your new Betfair account
It is not essential to deposit funds into your account on registration, but to start betting immediately you will need to credit your account using one of the payment methods available to you.
Betfair offer a number of payment methods for the convenience of Australian users.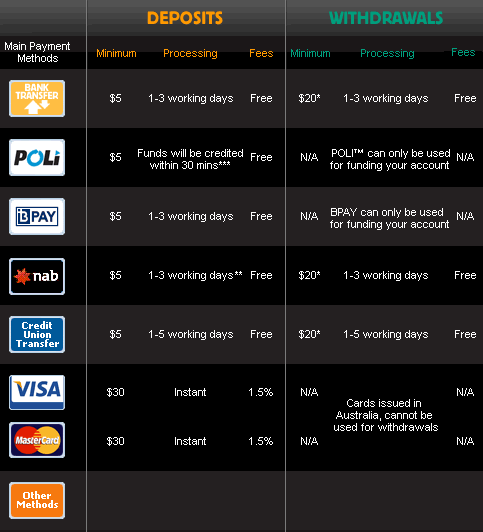 To make a deposit into your Betfair account click the arrorw to the top right of the menu to bring up a lisit of options. Click on 'Deposit' from the list (as shown below), located at the top right section of Betfair homepage after registering your new account and logging in.
You will be taken to the deposit page where you can deposit funds using most of the popular debit & credit card options, all completely safe & secure with Verisign security.

Deposit Funds
After selecting your method of payment, you must fill in your relevant details. For example, if you choose to pay by credit card, you should provide your card details, select an amount to deposit (minimum of $30), then give your login password. Finally, click Next at the bottom of the page.
Confirm your details
On the new screen, confirm your card details and the amount of money you wish to deposit by clicking Next at the bottom of the page. You then automatically return to the Betfair homepage, where you are logged in and can start betting.
Placing a Bet at Betfair
Now that your account has been setup you are ready to start taking advantage of all that Betfair has to offer. Continue on to our Backing a Selection page to learn how to place a bet from your new account at Betfair.
Verify Your Identity
For regulatory reasons, withdrawals cannot be processed and you cannot transfer more than approximately $500 AUD (or the equivalent in the currency on your account) per month to your Australian wallet until your identity has been verified.
Once you have opened your account, you will receive an email with a Betfair Verification form, which you must complete and take to any Australia Post Office or authorized Betfair Verification Agent, together with identification documents listed in the form within 90 days.
Verification can take up to 24 hours and is free of charge. If your account has not been verified within 90 days, it will be suspended until the identity verification process is completed.
Backing a Selection at Betfair
Now that you have opened your new Betfair account, it's time to start betting at the world's biggest betting exchange. To find out how you can be backing a winner at great odds, please visit our Backing a Selection page where it is explained for you.

Check out our Understanding Betfair Terms page for a quick Betfair glossary.
Don't have a Betfair Account?
Betfair odds are much higher on average than any of the three Australian TABs. Betting at your local tote means you are accepting the worst of the odds.
>>> Join Betfair for free here now.
Betfair has more than a million customers around the world is the place where smart punters bet.